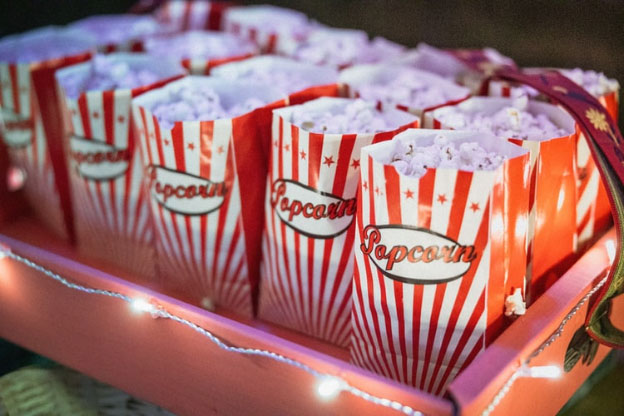 Who doesn't love snacking? Be it while watching a movie or your favorite show, having the right snacks by your side enhances the fun. However, when it comes to a board games night, snacks are the aspect often in question. No one likes to get their hands dirty with messy snacks, especially if the gaming accessories such as the dice or cards being handled require frequent exchange of hands. Gross!  Also, no one likes to grab a meeple that is covered in grease or cheese powder.
So, what are you supposed to do to avoid this? Well, switching to cleaner and non-messy board game snacks is the way to go. If you are clueless about what options are out there, then you need not worry. Read onto find out the top 5 non-messy board game night snacks that every player can enjoy.
1. Popcorn
You can never go wrong with popcorn. Obviously it can be messy, but there are plenty of options without butter, oil, or other added messy ingredients. Mess free and calorie friendly, yes please! Here is a pro-tip you can even buy bags of pre-popped popcorn. What will they think of next!?
2. Candies
Opt for candies that are not sticky and are hard. From jelly beans, to individually wrapped sweet and bite-size chocolates, the options here are plenty. Just remember, even hard candy can melt and get sticky if it gets too hot.
3. Trail Mix
A good trail mix can help keep the hands clean and stomachs satiated. From almonds, peanuts, cashews, dried cranberries, and seeds, go nuts with it –quite literally! This is a great vegan-friendly snack that is gluten-free and non-greasy. However, avoid getting the flavored trail mixes and those with added oils as they may get the fingers dirty.
4. Snacks On Toothpicks
Snacks on toothpicks aren't just for cocktail nights, you can add them to your board game night snacks as well. They're mess-free and easy to clean up. This opens the door to almost anything add cheese, olives, pineapples, and even sausages. This hack is sure to be a game-changer!
5. Grapes
To keep it a bit healthy, grapes are a good option to have. Be it green grapes or red ones, this party favorite is sure to be munched on throughout the board games night. You can even make fruit skewers if you have some extra time on your hands. Grapes pair really well with apples and pears.
In addition, 
The Bottom line
Regardless of how careful you are curating your game night snacks, it is always best to have wipes, tissues, and hand sanitizer nearby to minimize the mess. Keep napkins, small plates, and toothpicks close at hand.
All in all, be wary of the tastes and preferences of your audience. Make sure you have enough variety to satisfy all your friends and family members who are going to be present. And, don't forget the drinks, you can add a mix of juices, alcohol-based drinks, sodas, and more! With these non-messy board game night snacks in mind, your night is sure to be a success.
Don't forget a dice tray or dice tower to help keep your dice out of your fruit skewers! VisitForgedGaming.com for the best tabletop gaming accessories anywhere.