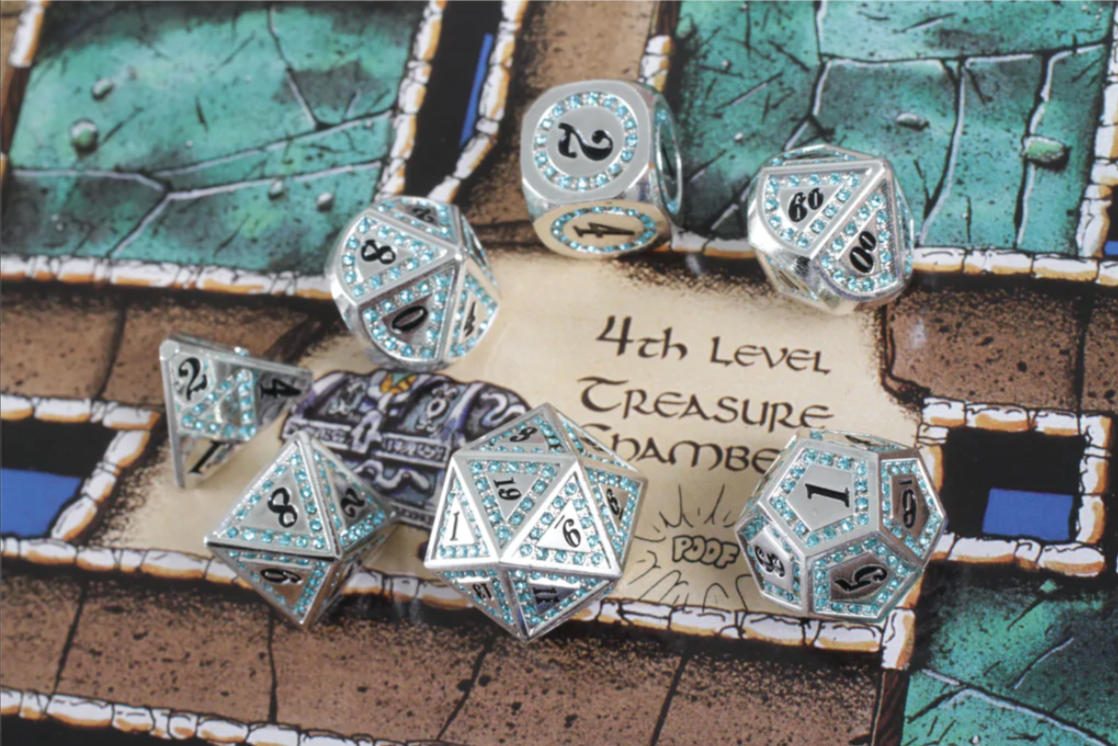 Deals! Deals! Deals! We had that turkey and now it's full speed ahead for Christmas! And that means deals, deals, deals! This Black Friday, save on everything under the sun! If you're looking to buy anything from dice to miniatures, there's a deal to be had. Everyone wants your money, but act now while the deals last! 
Kidding aside, with Christmas coming soon, what would be the best thing to look for this Black Friday? It really depends on what your nerdy loved one wants. Are they heavy Dungeons and Dragons players? Are they into tabletop war games? Computer games? Board games? Perhaps all of the above, and now you're spoiled for choice and have famine on funds. Let's take a look at a few options. 
The first thing is to find out what they already have. If they have several DnD dice sets, maybe an upgrade is in order. Most DnD players will have several sets of dice but might not feel like spending the extra money for an upgrade. Metal dice provide a completely different gaming experience. They are heavier, look nicer, and make a fantastic solid sound when rolled. A wonderful upgrade from resin dice, metal dice are worth the extra cost for a premium addition to your table. For an even bigger splurge, there are hollow dice. Hollow metal dice are intricately designed, come in a large variety of styles and colors, and make a magical metallic sound when rolled.
If they have a lo
t of dice, maybe they need something for dice storage. Maybe that cloth sack that they throw all of their dice in is starting to fray, getting dirty from aberrant soda spills, or is the source of that mysterious smell and you just don't know how to say that it's time to throw it out. There's no shortage of beautiful dice storage products for sale. Dice storage boxes come in all kinds of themes. The Mimic Chest dice box is amazing, with intricately handcrafted details that make each one unique. Mimics are iconic in the world of Dungeons and Dragons, though inconspicuous at first glance your recipient will be thrilled to open this seemingly ordinary dice box and reveal a vicious set of teeth! Perhaps the only thing more iconic would be the titular dragons themselves. The Deluxe Dragon Dice Box proves you can't beat a classic, and will be a welcome and impressive addition to any DnD game. 
Perhaps boxes aren't what they like, maybe they really like the increased portability that comes with bags. Not to worry! There are options for that out
there as well, it doesn't have to be that cloth bag. The Pouch of the Endless Hoard Dice Bag is great. It has individual spaces for 7 dice sets, and is sure to meet any recipient's storage needs with the ability to hold up to 1000 dice! That's 17 pounds of dice! For something a little more fancy, take a look at the Zip-Close Dice Case. It's a modern design and will hold up to 5 sets of dice in individual compartments for maximum protection. 
Is your nerdy loved one rolling dice in a board game box? There has to be a better way. And of course there is, there are plenty of dice trays available on the market. They come in a variety of sizes and shapes, it really boils down to the one that you like the best. For the ultimate in value, nothing beats the
Citadel Dice Tower & Tray which includes a dice tray, a dice tower, AND dice storage! The Scroll Dice Tray is really neat because it rolls up for easy storage. It's great for rolling those metal dice on. 
Dice towers
are items that players don't know they need until they use one. The first time a player uses one of the cheap dice towers made from laser cut wood it's not very satisfying, but premium quality dice towers can greatly enhance gameplay. The
Dragon's Keep Dice Tower
is beautiful to look at, and a great addition to tables with limited space. The best part of dice towers is that there are no arguments about the way people roll. Sometimes when people roll, it looks like they are just dropping the dice, leading to accusations of cheating. With dice towers, that can't happen. It's completely fair. And on top of that, they look really, really cool. 
There's no shortage of books for Dungeons and Dragons. There are plenty of modules, source books, and handy supplementals to be had. DnD modules are a lot of fun. The best part of these is that they do a lot of the preparation work for the DM, leaving more time to play the game and less homework. It's very easy to pick up a campaign book like Ghosts of Saltmarsh and get right into the game. Source books are really good for creating your own adventures in an established world. Some of the worlds in DnD are vast and detailed, and it's hard to have to look up everything in a Google search when you just want to play a campaign on the Sword Coast. Some of the best DnD supplementals are books that allow you to plug and play some great ideas. They aren't lore for the world or full campaigns, but instead a collection of ideas that you can decide to incorporate in your game any way that you want. One example is the Game Master's Book of Puzzles and Dungeons, it's a book full of puzzles for players to solve or a table of random rooms to help DMs create their own dungeons.
Black Friday will be upon us before we know it. I hope these were some good ideas to help with your holiday shopping. No matter what you choose, it's always the thought behind the gift that is the most important. Happy holidays and happy gaming!