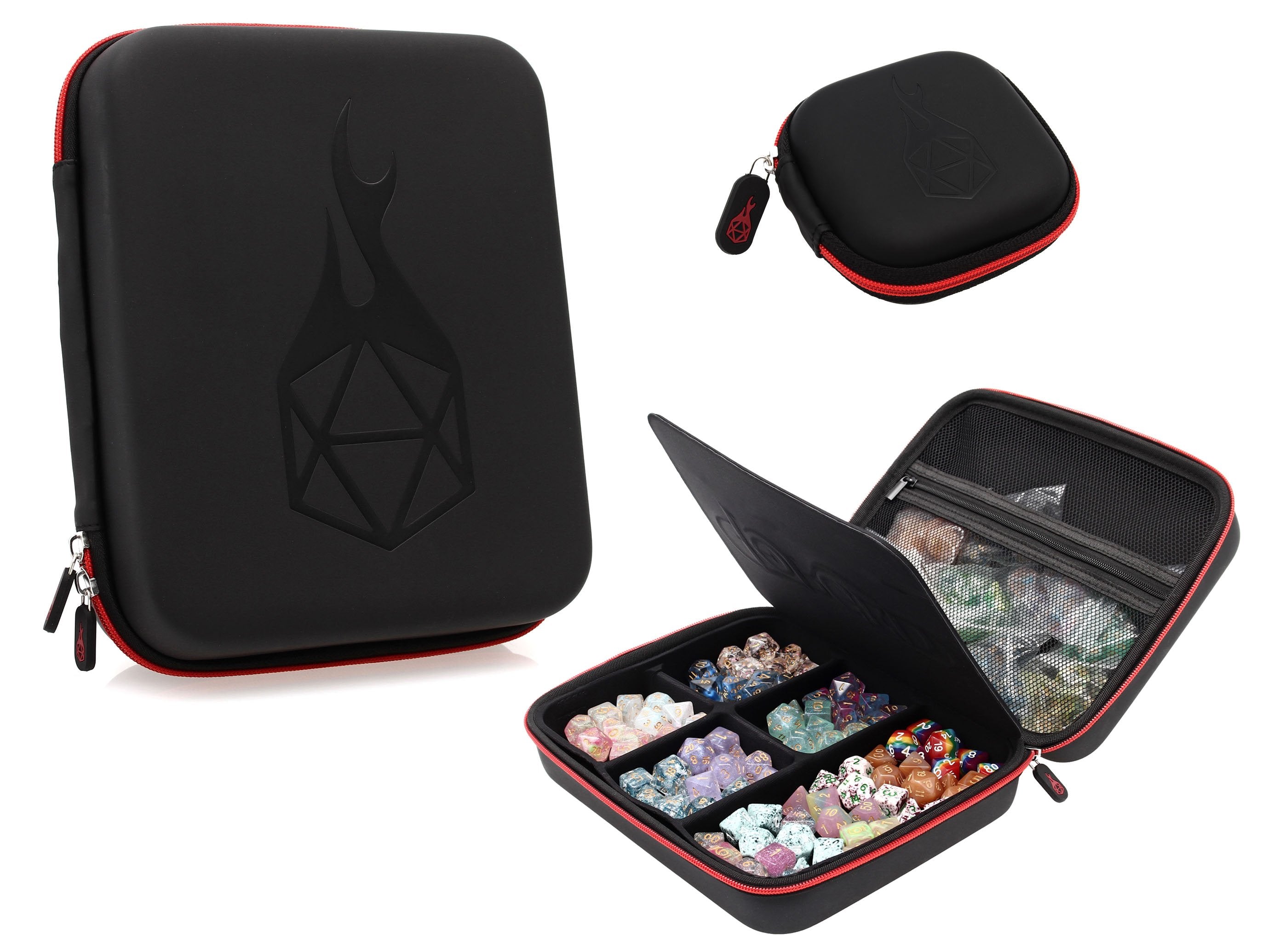 If you're big into tabletop games, you may already own a prized set of dice. If you don't always play at home, it's likely that you'll have to transport your beloved dice at one point or another. Do you use a dice bag, dice box, or dice tray? Surely you don't just stuff them in your pocket and head over to your buddy's place, right?
When considering how to safely and securely transport your dice, you may think all dice bags are alike. That's just not true. The next time you head to your friend's place for a rousing game of Dungeons & Dragons – if you don't want to lug around your custom D&D Dice Tower – consider purchasing a nice little Forged D&D Dice Box so you and your dice can travel together safe and sound.
If you don't have a dice bag, purchasing one from Forged should be at the top of your to-do list. But how do you choose the right bag for your collection? Here are some pointers.
Find a Design That Fits You
There are more designs out there than one could possibly imagine when it comes to dice bags. Choose one that appeals to your individual, unique tastes. If the sight of blood makes you queasy, or you're not a horror fan, you would – as an example – probably stay away from a gory dice bag!
However, when talking about dice bag designs, the aesthetic appeal is only part of the equation. How the bag closes greatly matters. It must close safely and securely. Many have drawstrings, as with Crown Royal liquor bags of old. To prevent losing your dice during transport, you tightly cinch the top closed. 
Choose Your Material Wisely
Everything from chainmail to leather is used to make today's dice bags. With that said, however, cloth is used to make most of today's commercially made dice bags. Best case scenario – choose one with a satin lining and an outer cover made of soft velvet. Why? At all costs, you want to guard against nicks and scratches when it comes to your beloved RPG dice!
Consider the Size of Your Dice
When it comes to purchasing dice bags 
, there are a number of sizes to choose from when it comes to today's dice bags. Take some measurements so you get it right. For the number of dice in your collection, you don't want a bag that is too large or too small. Here's a good rule of thumb: In a 5" x 7" dice bag, you can store approximately 100 game dice safely. If you are looking to get a bag that can comfortably hold more than 1,000 dice, there's always the Pouch of the Endless Hoard! 
Bags, Trays, Towers, and More
If you are new to RPGs, you may not have given much thought to your dice, much less bags, trays, or towers. Don't make that mistake as a newbie. Particularly once you start accumulating some awesomely collectible sets of dice, how you play with them, store them, and transport them will matter more and more.
When all else fails, if you want a true retro look, never underestimate the good old purple Crown Royal bag! Remember, however, to keep your dice from banging together as much as possible during transport.
For the best dice towers, dice bags, dice boxes, dice trays, and more, shop the vast array of products at Forged Gaming.