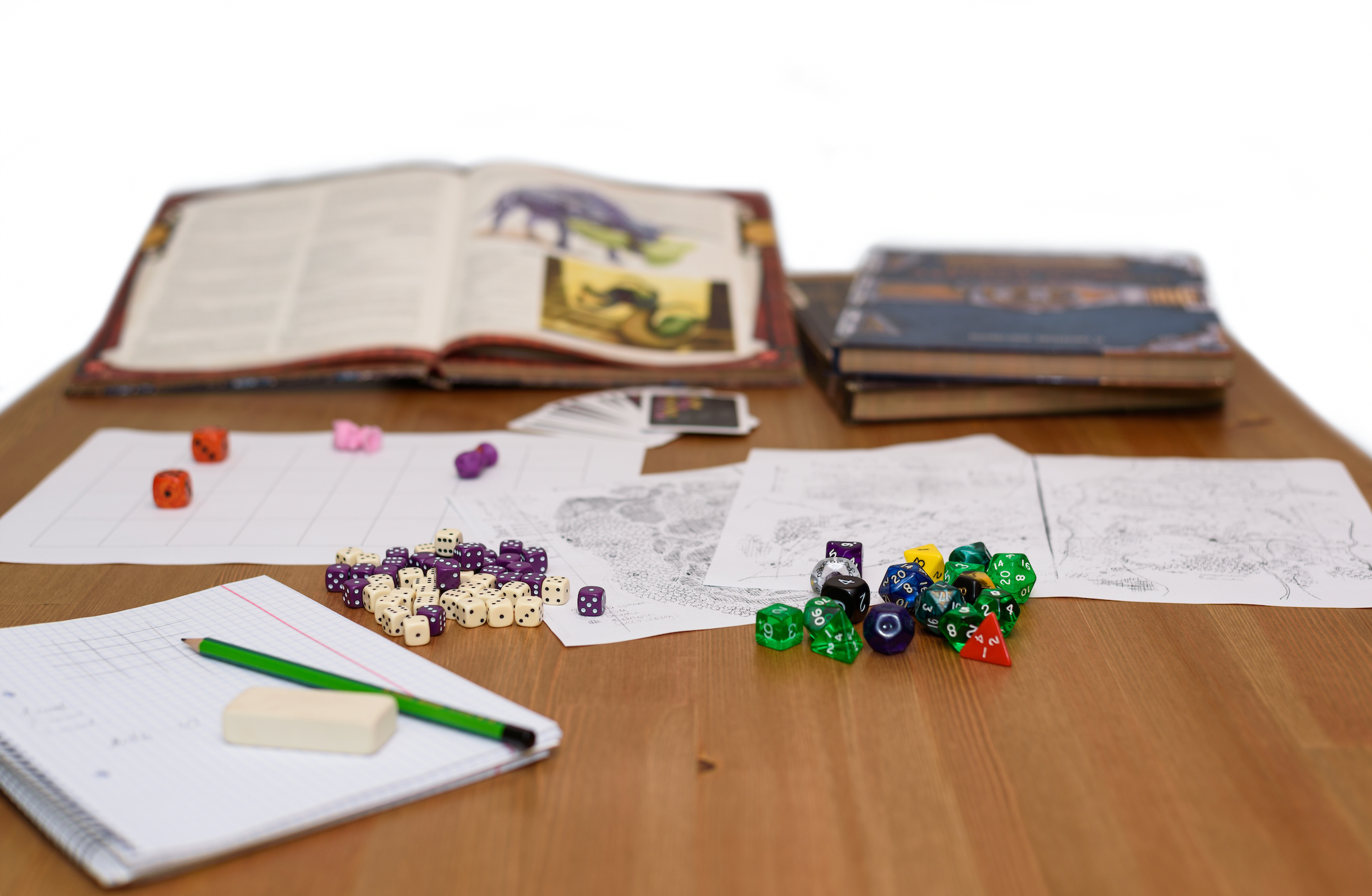 Congratulations!  Through a long and arduous bit of searching, begging, and maybe a bit of blackmail, you managed to get a group of friends together to play Dungeons and Dragons.  Everyone has a copy of the player's handbook, their character sheets, pencils, erasers, dice, and are ready to go.  You as the Dungeon Master have the Monster Manual, the Dungeon Master's Guide, all the maps, a notebook, DM screen, dice, and then you look at your 4' x 4' round table and you start to panic.  The average DnD group will have four players and one DM.  Unless you plan to play on the floor, space is going to be at a premium to accommodate everyone.  
Let's take a closer look at what the average DnD player brings with them to a game.  First, the player's handbook.  This book is essential.  It doesn't matter if the player is a seasoned veteran or a beginner, at some point there will be an argument about the rules or someone will forget what a spell or an ability does.  Having a reference guide of some kind is absolutely necessary.  Next, there is the character sheet itself.  It's a simple 8 ½" x 11" piece of paper but the last thing you want is a bunch of stuff cluttering it, because it's got everything on it needed to play the game.  It has all your numbers and equations.  Keeping that visible sounds like a good idea.  Next is dice, more specifically, dice trays, multiple dice sets, and any dice storage cases.  All of this sounds like it will take a lot of space.  When all of this is multiplied by five, the problem becomes quite evident.
Let's take care of the obvious problem first.  Don't keep the books on the table.  Most of the time they will be used as reference material, so while they are going to be important to have around, it won't be so important that you need to have them on the table at all times.  Keep them within reach, but don't clutter up the table if not necessary.  That goes for the DM and all of the maps as well.  A lot of players like the grid maps, and for a very good reason.  They are useful to determine distance and character movement. They can also be used to take notes, and can be used by the DM for multiple in-game functions.  The average game map will be about 23" x 27" and take up a good chunk of the table.  It's up to you how important it will be and when.  
Another space saving tool is a dice tower.  A dice tower allows for rolling of the dice in a smaller area than a dice tray.  Depending on the material and the quality, a good dice tower or tray will be anything from $20 to $40 dollars.  The Forged Draco Castle Dice Tower and Dice Tray is a great one.  It's made of super tough faux leather, so you don't have to worry about chipping like with a wooden dice tower, and it is built sturdy enough to last you many years.  For a bit of extra storage, the Citadel Dice Tower and Dice Tray gives up a little bit of space for the tray to offer you extra storage space for extra dice sets.  Most dice towers are not made to roll a lot of dice at the same time, so it becomes a matter of preference.  Just know when it comes to the laser cut wood dice towers, they are cheaper and tend to break easily.  
If you really want to save space, google "dice roller" and suddenly you won't need dice at the table at all.  Most serious DnD players raise their nose at a dice roller app, it subtracts from the experience of playing DnD.  There's a very real tactile and visual sensation that comes with rolling your own dice.  Rolling dice is fun.  How much fun are you having clicking a button?  Don't dismiss dice rollers entirely, but chances are good it will enhance the experience to have physical dice in front of you.  Dice are called gamer jewelry for a very good reason.
Dice are going to get everywhere.  There's no way around it.  The table is only so big, and everyone has at least one set of DnD dice.  If you're using a dice tower, that's a good way to limit the number of extra dice trays the table will need.  
Having some kind of storage for the dice when not in use will also help keep things organized and tidy.  If you're using metal dice, chances are you'll have a foam case for them already.  For resin dice, a dice box will go a long way as well.  If you have a dice box that also has compartments for different sizes, all the better.  The biggest problem with throwing all your dice in one box is that the ones you need get buried under the ones you just used.  So if you need a bunch of d6's and they're buried under all of the other dice, that dice box will not feel as much of a boon.  The Dice Arena is really cool, because it comes with two dice trays and storage for about five sets of DnD dice.  If you have a whole bunch of dice that need storage, the Dice Display Case is just what you need to display your dice collection with pride.  A cheaper option is to go to the store and look for a tackle or fishing box, they have slots to separate them as you wish, and are sturdy and affordable. 
There is such a thing as having too many dice.  That number will be different for every person, dice are gamer jewelry after all, and some of us like our bling!  One of the strongest spells in DnD is Meteor Swarm, and it will do 20d6 damage.  How you wish to calculate that much damage is up to you.  You could get 20d6's.  Maybe just grab 10d6's and roll twice.  Maybe just roll 5d6 x 4.  However you want to do it, just remember dice are pretty but they take up space, so proper storage and gameplay accessories will be important when playing in small areas. The old adage in DnD is "Don't get between a dragon and their hoard."
Hopefully some of these suggestions were helpful for reducing clutter and conserving space during your group's next D&D game.  Keep things neat, keep the game going, and keep on gaming.