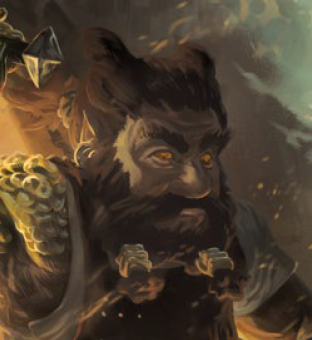 Solve the riddle of the Forge Master and win cool stuff!
When we started Forged, our goal was just to make cool tabletop gaming accessories that we would be proud to have at our table. It's been a wild ride over the last several years and we've come a long way from our humble beginnings to become one of the leading makers of premium tabletop gaming accessories. From the beginning, there was always a story in the background; a meta character that we envisioned as the creator of our products who somehow transcended the boundary between our world, and the worlds we traverse in our game adventures.
We finally gave that character a name and the legend of the Forge Master was born. Like many of you, we were influenced throughout our lives by the epic high fantasy stories from authors like J.R.R Tolkien, and Margaret Weis and Tracy Hickman. In many ways the Forge Master's story is a homage to the tales that have inspired us.
We wanted a fun and unique way to introduce the Forge Master to the world. So, with that in mind, we worked with an amazing artist and commissioned a piece of art called Last of the Forge Masters.
Within the full image of Last of the Forge Masters are clues to the Forge Master's secret and true nature. We have divided the image into 9 equal pieces and printed them on cards. On the front of each card is a portion of the original image. On the back is a short poem related to the portion of the image, but more importantly is part of a 9-piece poem/riddle. As with the full artwork, the full poem contains clues to the Forge Master's true nature.
We will be including cards at random with each Forged Gaming order over the next few weeks.
The first person to post a particular card to Instagram (or Facebook or TikTok) and tag us will receive a free Forged Fob of Fate or GlassStaff Designs keychain of their choice.
The first person to solve the riddle and tell us the Forge Master's secret will receive a free Dragons Keep Dice Tower of their choice. You can DM your riddle solutions to @ForgedDice on Instagram.
As an added bonus, anyone who posts their card and tags us will be entered into a drawing for a $100 Forged Gaming Gift card!
As the cards are posted, we will update the sections of the full image here on this blog.
So that's it! Have fun with the puzzle and good luck solving the riddle of the Forge Master.
We're excited to show you what's coming!