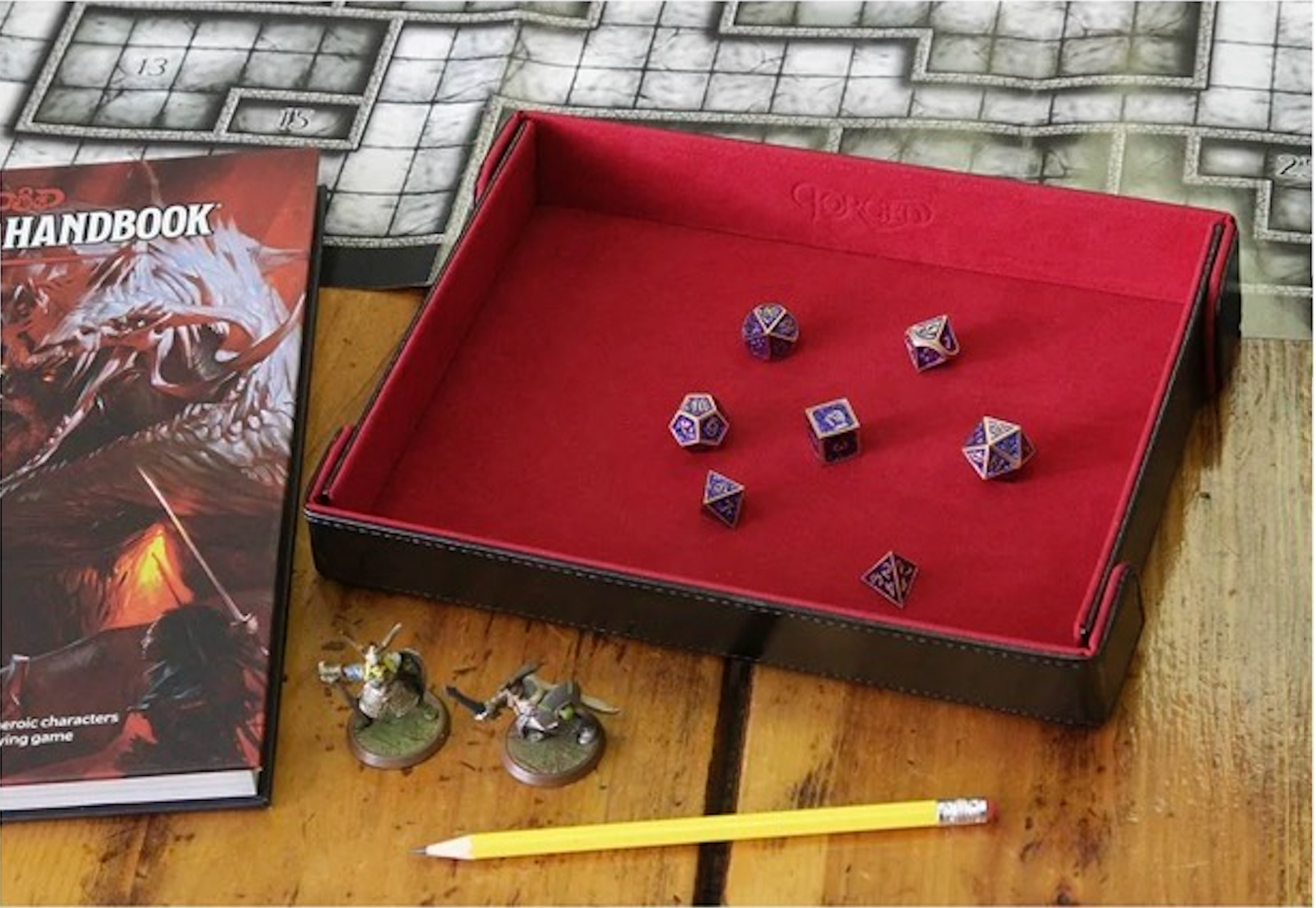 Welcome to the wonderful world of rolling dice, an act that is almost as old as human civilization.  There are sets of dice that go all the way back to 3000 BCE.  There's something about the feel, sight, and sound of rolling dice that makes it appealing on a very basic level. Rolling dice is fun and satisfying, and with that, gamers need a place to roll those dice.  It's no secret that metal dice don't get along with wooden tables, that's just one reason why dice trays are so nice to have. With the right dice tray, players can really give those dice a toss that matches the excitement of the moment.  
When you're shopping for a dice tray, there are several things you want to look for.  Pay close attention to the material, dice rolling area, the noise it will make, aesthetics, portability, brand, and price.  Dice trays come in all kinds of materials, everything from wood, to leather, to plastic.  Some dice trays give you a wide area to roll, while others are smaller and more portable.  More expensive options often have details like amazing artwork on the neoprene rolling area or mini statues decorating the walls, while cheaper trays keep the focus on basic functionality, and are literally a hard rolling area with four walls to keep the dice enclosed once thrown. 
There is nothing wrong with choosing a less expensive dice tray, but like with most things, you get what you pay for - and usually don't get what you don't pay for.  Some dice trays are made from laser cut wood, which is great on a budget. There's no denying that the sound of dice on wood is intoxicating, but wooden trays are often flimsy and fall apart quickly, making them difficult to transport. 
Some dice trays are made with leather.  These are great because they have snaps at the end so that they can easily be folded up, but they leave something to be desired aesthetically. They don't have the felt lining that most higher end dice trays have, which takes away from their overall feel, and their lower walls means using extra caution when rolling so that the dice don't jump out. If you're on a budget, there's nothing wrong with them, they will do the job, but for a little extra investment you can get something truly special and designed to last.
One great option for those looking to splurge without breaking the bank is the magnetic folding dice tray.  It's great to have something that you can fold up and take with you. It's easy to take along to a friend's house or to conventions because the walls fold down, making it easy to pack up. The same is true with the hexagon snap folding tray.  These are really great because they have the same benefit of easy travel, but also have much higher walls that make it less likely for dice to jump out. I recommend the felt lined hexagon snap folding tray just because it feels better, looks better, and helps cushion the dice a bit better than solid leather.  This tray is a good deal for just a couple extra dollars. 
Some of the more moderate choices are some of the best on the market.  The Dice Arena is a wonderful dice tray.  In fact, it is two in one.  The main area is a smaller rolling area lined with felt, surrounded by a well for your dice to rest for easy accessibility.  The cover on the dice arena is also a very sturdy dice tray with a felt rolling area, providing a bigger rolling space than the inner tray. If you're looking for a dice tray at a good price that's built to last, take a look at the dice arena.
The Scroll Dice Tray is very interesting.  It's less of a dice tray and more of a portable rolling surface.  It doesn't have walls like other dice trays, but it's a very sturdy rolling area for metal dice, you'll just have to be a little extra careful to keep the dice within the rolling area or they will risk flying off.  The scroll dice tray can be basic brown, but is also available in a wide variety of other vibrant colors, so you can have the fun of choosing your favourite.  
The Citadel Dice Tower & Tray comes at a slightly higher price point. This is because it offers 3-in-1 functionality, featuring a small rolling area to accommodate the dice tower, as well as a smaller rolling tray in the lid and a dice well for storage. With this option, you're paying for the dice storage and the dice tower in addition to the rolling tray. As a dice tray, the rolling area is smaller than some, but If you like dice towers or want to get the best of both worlds this is a great choice.  It's made of very sturdy faux leather and will last a long time, and it's a versatile option that's easy to pack up and take with you. 
The Battle Pit Dice Tray is really cool. It has plenty of storage for your dice sets, and comes with a good size area for rolling those dice. Its lid can also double as a second dice tray. Made with faux-black dragonhide and a luxurious velvet lining, this tray is ready for battle. It's smaller than the Citadel, and, despite not folding completely flat, is fairly portable.
The Zip-Close Dice Tray & Storage Case is great for storing dice, which is its primary function. It can hold up to six sets of dice quite easily.  For use as a dice tray  you can remove the padding on the opposite side to access the rolling surface.  If you're looking for something to help keep your dice organized, this is a great buy and the additional rolling surface is a great bonus, but If you're specifically in the market for a dice tray this might not be what you want.  This is meant to be for dice storage first and foremost, and its versatility and durability make it a great transport case for travelling with multiple dice sets. It may not come with all of the bells and whistles, but its versatility and durability make it a great option for transporting your most precious dice. 
If you're looking for a dice tray and don't really care about storage or additional features, then the reversible dice tray is exactly what you're looking for.  This dice tray has plastic walls that are strong enough and high enough to really whip those dice. The best part is the 14" neoprene rolling area with a neoprene mat, which is perfect for metal dice as well as rolls of a large number of dice, like in war gaming.  It will sacrifice the rolling sound of the dice when they hit the mat, but it will preserve the structure of your dice over time much better.
For those with the money, it's hard to go wrong with a handcrafted dice tray.  Most of them are made of wood and are lined with felt, and they can be customized with personalized artwork so they will look exactly how you want.  These dice trays tend to go for about $100 or more, so if you have the money to spend, by all means.  
The most important question to ask is "will I have fun with this at the table?"  At the end of the day, that is what it's all about.  Any accessory should make being at the table more fun.  Roll them bones and happy gaming!