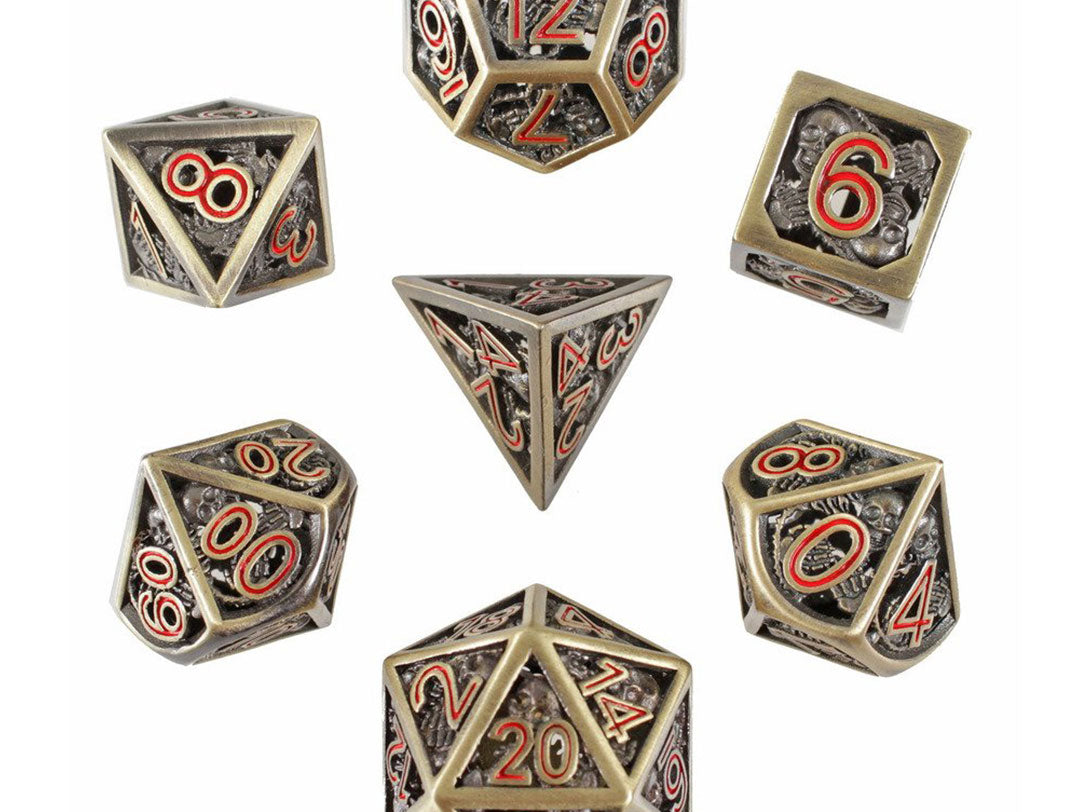 While it seems like a matter of personal preference, there are practical reasons one may choose metal dice or plastic. Metal dice may seem more aesthetically pleasing, but plastic dice may hold a more utilitarian advantage. Metal dice may seem like they last longer, but plastic dice may be cheaper. 
So here is a quick rundown of all the features of metal dice vs plastic to help you make an informed decision. 
The Size 
There are a lot of different sizes (and shapes, obviously!) when it comes to RPG dice and dice sets. There is no official "standard" size. However, most dice sets will fall into the average size category. For d20 dice, that average is around 20mm. Metal dice are heavy. Period. Larger metal dice will be heavier.  The size of the dice you choose is simply a matter of preference and practicality. Other than weight, metal and plastic dice are about the same when it comes to size
The Weight 
Metal dice are heavier than plastic dice. Depending on the metal composition, they can be a lot heavier! That's why they feel better in the hand and are much more satisfactory to roll.  However, with that satisfactory weight comes a risk of doing damage to your tabletop. Never fear, a simple dice tray (like the Forged Dice Arena) can solve your problem. Plastic dice are lighter and if you are carrying around several dice sets, plastic might be a bit easier to transport. And, with a Dice Arena, you have a dice tray and a storage solution!  
Durability 
This is perhaps where the metal vs plastic dice debate is most simple. Metal dice are of course more durable. They're less likely to break when they roll off the table and, if properly cared for (see our article about How to Take Care of Your Metal Dice) they can basically last forever. Plastic dice are much more likely to suffer damage from a fall. Additionally, depending on the quality of plastic used, can degrade and become more brittle over time.
You can extend the life of all of your dice by using a dice tray! 
Finishes 
We might be a bit biased, but we feel strongly  that metal dice wins over plastic in the finish category. Metal dice can be electroplated and enameled  in a vast variety of colors and can be highly polished. They can even be finished with matte colors. There are also  a lot of beautiful Plastic dice, but we don't think they have the same magical allure as metal dice. 
Manufacturing and Materials 
Both types of dice are made with heating and molding processes. There are several common methods of production, all of which can create great dice. As long as high-quality manufacturing practices are used, dice will look great and be well balanced.
Fairness 
A fair die has a central center of gravity, which ensures each side has an equal chance of facing up. Modern dice styles include many intricate designs and creative embellishments. The only sure way to determine a die's balance is to test it.
Verdict
At Forged Gaming, we started out creating awesome metal dice sets. It's a passion. But, hey, we understand that metal dice may not be for everyone or work in every situation. If you're looking for metal dice, take a look at our
new releases
or our
unique finds
for inspiration. The most important thing to remember is to have fun gaming, regardless of what type of dice you choose!